IMPROVING IS CONTINUOUS:
Back in 'The Old Corps' (which is essentially the Marine Corps version of 'once a upon time') we used to joke that 'Chow is Continuous'. Which meant that any time you had a chance to grab something to eat from your MRE - do it! You never knew when you would have a chance again based on the need to maintain a high operations tempo.
I remembered that idea as Intterra conducted our post Super Bowl 50 after action review led by Emily Carpenter. Emily was our 'point person' deployed to the Santa Clara Multi-Agency Coordination Group. She not only served as our lead person onsite, she was also a critical part of the Santa Clara County Fire geospatial team.
When she returned, we held a company-wide review of the event so that Emily could lead the entire team through what she and her team did. Sometimes a live, rapid review like this gets lost in the return-to-work drive or even the high-fiving/back-slapping that often occurs after a successful deployment. However, experience tells us that maintaining the high tempo of continuous improvements means learning lessons fast
and acting on them
.
HOTWASH AS SOON AS HUMANLY POSSIBLE:
After running the Situational Awareness not just for Super Bowl 50, but for more than 100 League and Corporate events in the bay area, the development team has lots of specific feedback to discuss. The intensity of the operations in the 10 days leading up to the big game really puts a microscope on every aspect of the software. Special Events editing, resource tracking, CAD and RMS integration and multi-agency coordination went very smoothly, but there are always improvements to make.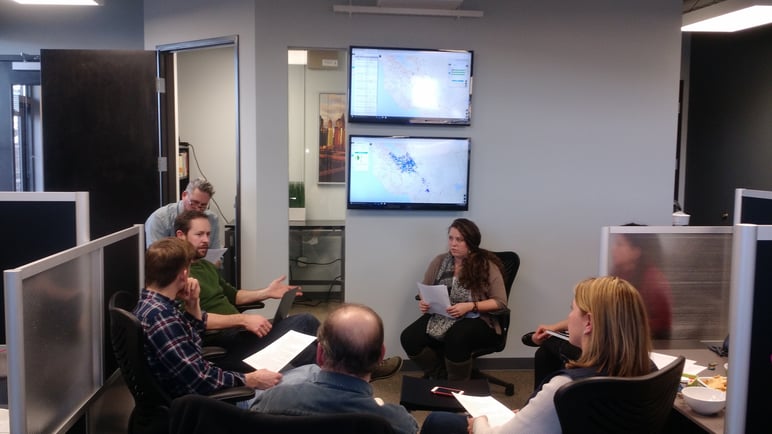 Leading our internal incident debrief after Super Bowl 50, Emily and the team discuss what we can learn and improve for the next event. This forced 'time-out' from our normal high tempo operations forces us to focus on the strengths and weaknesses of our software. The only rule is clear-text communication with each other. We believe in any process that makes our software better and faster because we know our software makes real world outcomes happen better and faster.


---

COMING SOON, LESSONS FROM EMILY:
Emily covered tons of ground from special event mapping to interoperability. I will leave it leave to her to spread the word about best practices and lessons learned. But from my perspective, the best things I heard were Emily's frank and open discussions of what worked, what didn't, and what would be better next time. I challenged our team to savor the success, but more importantly to embrace her comments 'from the field' and relish the chance to make our software even more useful. Making Better Happen Faster is not just something we strive to build into our tools, it should be something that drives our entire development process.