When customers send feedback, Intterra listens. Check out our new user interface, inspired by direct feedback from our loyal users. We have always been proud of our software, but when we asked what you loved and hated about it, you gave us very specific and practical advice.
Now that we have many thousands of users, we wanted to make sure we were really hearing what would help you: on the fireline, in ICPs, at Area Commands and Dispatch Centers, and on mobile devices both on and offline. Well, you spoke, and we put our team of User Interface and User Experience people to work. The results launch on January 1st, and we know you will like it. Here is a preview: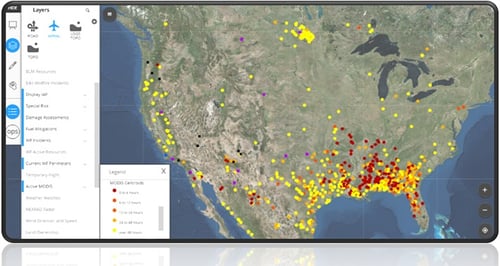 Interface domination of your screen is out. The new version of Intterra's SITUATIONANALYST clears space, provides a moveable legend, and presents menus and windows with higher contrast for ease of use. We have removed clicks and added a quick launch menu of some of your favorite features. We have also made layer management a piece of cake, and powerful control and simplification of editing from any mobile device. Less clutter, more map and analysis. We think you'll agree that this is the easiest interface you've ever had.
The new interface shows up at the very beginning of January 2016. If you'd like to use the new interface sooner, contact your Intterra Program Manager or leave us a message here.