It's been exceptionally dry here in Colorado. We've seen very little rain or snow in the last several months, and it's creating the potential for an explosive wildfire season. Fire departments all over Colorado are taking the time to prepare themselves in the coming weeks for whatever the future may bring, and several agencies have already deployed Intterra's Situation Analyst (SA) & its Field Tool.
What is SA?
Situation Analyst is a subscription-based system that links your CAD, RMS, AVL, and Mapping capabilities and allows you to access them all in one location. It analyzes your progress, connects all your operations, and makes situational awareness and planning easy. You can easily access all this information on your computer, smartphone, or another device.
Fire Department Technologies
Recently, KRDO News 13 released a short video describing some of the technologies fire departments
are adopting to combat the busy season we are about to experience. In the video, KRDO met with
Captain Steve Oswald of Fire Station 3 in Colorado Springs. He said, "The fire department is always looking to try to stay in the forefront as much as we can and use those types of technology tools to better respond to incidents."
Specifically, Intterra's SA and the use of drones in the fire service. Captain Oswald shared how this new technology is making the jobs of firefighters safer, easier, and more efficient in Colorado Springs.
"We might use this to look at the terrain to see if we can see where the fire might move through the country side. We can see maybe that there's a lot of drainages or dry creek beds that would show us that we probably wouldn't be able to cross that without an apparatus"
"We are able to get proper coverage to our citizens and be able to efficiently monitor the resources in our city."
Captain Oswald went on to talk about the use of the mapping integration. "The mapping tool is a way for us to monitor incidents throughout our city and allows us to make sure that we have the right resources spread throughout the city and that we are able to get proper coverage to our citizens and be able to efficiently monitor the resources in our city."
"The more information we can give out to company officers, the better idea we have of the type of situation they have going on, and the better they can set up the incident once our battalion chief arrives to make sure that we are efficiently suppressing the fire or we have the right resources on scene to take care of fire, resucue, or any other type of hazmat or alarms that we may respond to."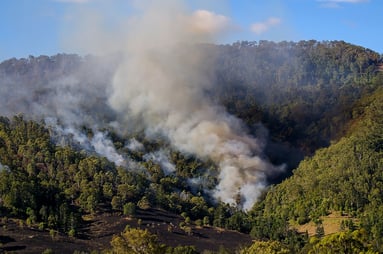 The wildfire season may be busy this year, but you can rest assured that CSFD is prepared. For more information on Captain Oswald and Fire Station 3, check out the CSFD website. CSFD proudly offers fire station tours, ride alongs and fire engine visits by appointment when available. If you want to learn more about SA and why it's working in places like Colorado, Oregon, and Montana, be sure to contact us today. We're always happy to share with you a tool that can make your job safer and more efficient.