Over the past year the COVID-19 pandemic has brought forth difficult circumstances for individuals across the globe. The good news is that new vaccination practices and techniques are helping curb the spread of the Coronavirus.
Due to their essential role in fighting the pandemic and an increased risk of virus contraction, first responder teams were first in line to receive COVID-19 vaccines. As vaccine distribution continues to become more widespread in the coming months—disseminating critical information to fire teams in an efficient and effective manner is of the utmost importance. Appropriately disseminating information pertaining to vaccine distribution centers regarding access, traffic flow, and parking is vital for ensuring expeditious vaccination efforts.
Challenges of Vaccine Distribution
The COVID vaccination program can be an effective tool for curbing the spread of the Coronavirus. The issue is distribution can be challenging and cumbersome without the proper action plan in place. In order to maximize efficiency, the Santa Clara County Fire Department sought assistance from Intterra in order to address a number of ongoing challenges faced by the department.
The Santa Clara County Fire Department was able to effectively utilize the Special Events tools in the Preplan Module to appropriately disseminate information regarding the Vaccine Clinic at the Santa Clara County Fairgrounds. Let's take a look at how they worked closely with Intterra to effectively distribute vaccine clinic access information.
How Intterra Helped Santa Clara County Distribute Information
Captain Stockman of the Santa Clara County Fire Department stated, "One of the constant challenges is access, traffic flow, and parking. We were able to markup a traffic parking plan in Intterra in a matter of minutes." As a result, captains and other high ranking officials were able to accurately view access routes, traffic flow patterns, and parking information.
Using the internal platform Marvlis—the Santa Clara County Fire Department was able to provide constant status updates and ongoing details to crew members. The complexity of vaccination distribution was more simplistic using Intterra's broad implementation of a common operating platform. As a result, confusion was significantly reduced using a standardized and consistent flow of data between channels.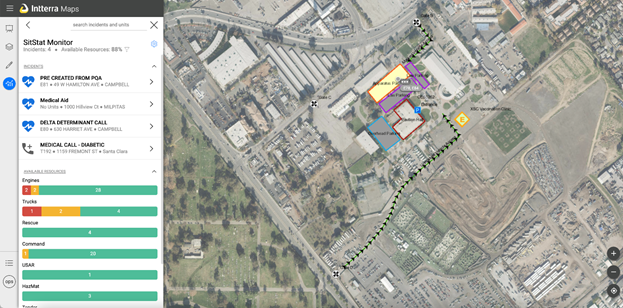 How Intterra Can Help Your Department
Adequately communicating complex information across multiple departments can be burdensome when several agencies are involved. The Santa Clara County (XSC) Vaccine Clinic effectively demonstrated how teams can work together to significantly reduce confusion by providing a common and consistent flow of information across agencies.
If you would like to learn more about how Intterra may be able to help your department, please reach out to us to schedule a demo and consultation. We're here to help lend a hand along the way.