From the outset, Intterra has aimed to help fire departments use data to analyze their current performance and learn how to get better, both for their personnel and the communities they serve.
What is 'Success' for the Fire Service?
It's common for agencies to rate their success by examining their own performance against industry benchmarks or by comparing themselves to others using budgets, quantities of engines, or annual fire loss estimates. However, in many other endeavors, we rate our success by working with peers, comparing alternative responses to problems and challenges, and sharing results. Intterra, the Western Fire Chiefs Association (WFCA), and Rice University want to use 'big data' to help the fire service move beyond benchmarks into a comparison-based decision model.
"Using data to make recommendations to better serve a fire department is crucial."
- Genevera Allen, Associate Professor, Rice University
The WFCA Fire Data Lab
In 2017, a pioneering group of fire departments joined Intterra and the WFCA in the creation of the Fire Data Lab (FDL) to accelerate the use of data-driven decision making in the fire service. The result is a data warehouse that hosts data from each fire agency and, in turn, provides them with valuable performance data they wouldn't otherwise have access to.
As an accelerator for advancing data science in the fire service, the Fire Data Lab set four specific objectives for the first two years:
Provide near real-time analytic tools
Create a "live" dynamic master data set
Provide data tools and frameworks to the fire service, industry, and academia
Create a community of mentor departments that can support others looking to expand their data and analytics capabilities.
By integrating dispatch, records management, and vehicle location data from many departments into FDL, these agencies created a collaborative environment to identify trends and develop new strategies for improving the safety of their communities.
"Overall feedback from our events is that fire departments need more access and control over their data. There should be a way to centralize all the gathered data and make it accessible to other departments."
- David Van Ballegooijen, General Manager, Western Fire Chiefs Association
As the FDL enters its third year in 2019, Intterra and the WFCA have partnered with the Rice University's Data to Knowledge program (D2K Lab) to begin exploring where the next advances in data science and analytics can take the fire service. With two years spent setting the foundation and gathering data, it's now time to research and analyze it.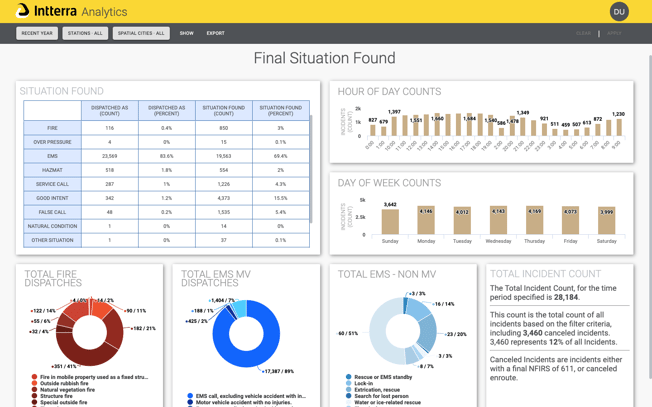 Rice University Researchers to Analyze Nation-Wide Data Sets
Rice's D2K Lab is a data science program where interdisciplinary teams are assembled to explore data and identify unique characteristics patterns and outliers to help organizations address complex issues. With a focus on "transforming data to knowledge," the D2k Lab uses data science and technology skills to make a real impact in communities.
For the past two years, Houston Fire Department had been working with Rice University's D2K Lab on a collaborative research project to develop an optimal fleet allocation and maintenance system. Looking at dispatch data, the Rice D2K Lab concluded that HFD needed five additional ambulances. Using the results of the D2K study, HFD was able to justify funding in a challenging budget cycle to acquire additional ambulances and improve the support that they provide the greater Houston area.
In 2019, Houston FD joined the Fire Data Lab and introduced Intterra and the WFCA to Rice University's D2K Lab with the thought of combining their resources to help fire departments gain a larger perspective of issues across the country. HFD is a large agency, but like all fire agencies, it normally just has access to its own data, not country-wide data that would include other departments similar in size, demographics, and geography. By joining together, Rice and Intterra will now be able to help HFD and the fire service explore the potential for 'big data' to address to address complex issues across the United States.
Intterra and the Rice D2K Lab Take a New Approach
Today, there is no automated or effective way for a fire department to compare themselves to other departments and communities. If a department is looking to solve a challenge, it would make sense to analyze how similar departments confronted and overcame a similar challenge. That's one of the long-term goals that the WFCA and Intterra hoped to address through the FDL. Now, with Rice bringing in data scientists, engineers, policy researchers, and social scientists, there is a roadmap to achieve it.
In the coming months, the Rice D2K Lab will begin working with Intterra and the FDL to identify major trends to improve life safety outcomes in the communities that fire departments serve. Using the large amounts of data from across the country hosted by the FDL, the Rice D2K Lab and Intterra hope to sponsor short- and long-term research projects to:
Compare and contrast how fire departments across the country approach problems and challenges.
Quantify and qualify how investments made by fire departments into specific areas benefit their communities.
Help fire departments discover similar departments/communities and compare successful strategies.
Grow the culture of using data to solve problems by connecting researchers and fire service personnel.
Create new jobs for researchers and open their eyes to what's available in the fire service.
The D2K Lab's first research initiative will focus on giving fire departments the opportunity to see how other agencies across the country are addressing specific issues and how they've solved them. The intent of the initial study is to provide fire agencies a methodology to identify which fire agencies are the most like them so that they can determine if another agency's approach would also work in their communities. With agencies having access to country-wide data and being armed with the tools and resources to put it into context, they'll be better poised to fight not only fires, but other major issues like the opioid epidemic, homelessness, and medical emergencies.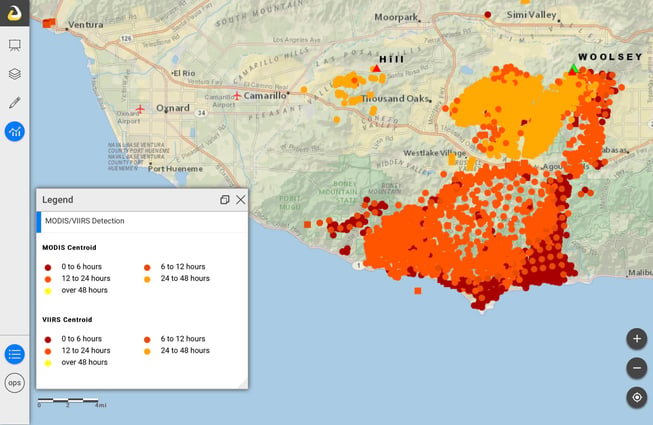 Improving the Fire Service Community
The FDL was created when the WFCA and Intterra set out to help fire departments answer the question, "How are other departments addressing issues similar to ones I face in my community?" Now, with the collaboration of Rice University's students and professors, all three organizations are working to uncover new ways of using data to advance the fire service community.
"Our long-term goal started with the WFCA and the FDL. We wanted to connect fire departments and help with research. After setting a strong foundation by gathering data and fostering a community of forward-thinking fire departments, we now have the opportunity to let leading scientists and researchers dive into that data and help us learn."
- Brian Collins, CEO, Intterra
The fire industry has always been made up of departments that are willing to share information, connect and learn from each other. This new initiative will help fire agencies learn how to use data to improve, better serve their communities and, in turn, become safer and more efficient.
The fire service community is just beginning to really understand how to use data to solve problems, and Intterra looks to continue fostering a culture to adopt data and empower agencies to use it effectively. Partnering with the Rice D2K Lab will allow fire service leaders to connect with state-of-the-art researchers and help them truly embrace data.
To learn more about the fire data discovered from the Rice D2K Lab capstone program, click here.