While I'm the world's biggest fan of SITUATIONANALYST™ (SA), I think it probably falls into the category of "everybody-thinks-their-baby-is-the-cutest"... So I think it's probably important for me to slow down and offer you my top ten reasons SITUATIONANALYST is the best little platform out there.
Sure, you've been on fires or worked in departments where you have seen SA up on a big screen for a briefing, or heard people talking about it. And you may have even played with it a bit yourself—but I'm guessing you are one of those people that says something like, "I really like it, but I don't really know all the things it can do." (TRANSLATION: My Chief likes it, but I'm not sure how I would use it for me.)
You probably know the basics of how to use SITUATIONANALYST, but it's actually a lot more capable than you might think. From productivity hacks to buried features, I've put together a list of ten things you likely don't know SA can do.
---
1. Briefing Dashboard
Found on the top/left of the screen, the Briefing Dashboard is a dead simple overview of everything that is happening locally, regionally, and nationally.
Pro Tip: To really find out what is hot right now, sort by:
Cost > Total Structures Threatened > Engines or Crews.
Under SHOW ALL INFO do you see the TOTAL STRUCTURES THREATENED label in the picture below? It drops down and lets you choose other things.
Also note the little green dots—they show brand new and emerging incidents that will give you an idea of what region is heating up next.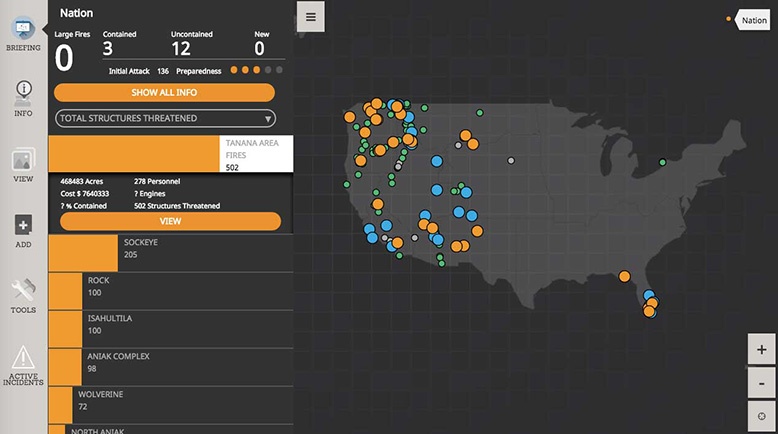 2. Public Version To Share With Your Friends.
(And its better than what you used before.)
Check out the best current National Fire Situational Awareness. Just click on the orange Go Now button and you'll be able to see everything from new fire reports to the latest heat and perimeters of existing fires. This is the Federal & public version of SITUATIONANALYST. Published by the National Interagency Fire Center (NIFC), it is a version of the exact same tool that the Interagency Fire community uses to manage resources, costs and strategy. Now you can use it too.
3. Powerful Search to Find Data, People, and Locations
"Adding the Search tool to the list of features we didn't know were in SA? Of course there's a search tool," you say.
I mention it—and I even list it as number 3—because it's like Search 2.0. It is a phenomenal tool that gives you a peek into how Intterra thinks about software. Like any good search, this search function allows you to search for locations, addresses, places, etc. However, it's not just worldwide searching.
This search tool crosses a boundary into analysis. It will let you search and find results within your data too. Search layers for things like "Type 1 Engines" and you will find all of the Type 1 Engines deployed that are in the Resource Ordering and Status System (ROSS), or Type 1 teams, or hazmat incidents, etc. It will let you find data you couldn't find any other way—all from different systems and map layers. Then, the software lets you create hotspot maps of the results—finding concentrations in analysis and gives you insight into where, how, and why things are happening.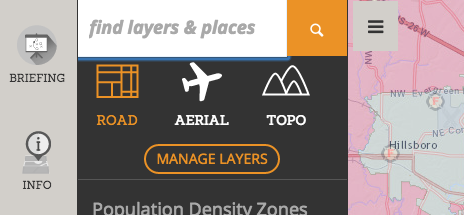 4. Add ArcGIS Online Layers to SA
It's here! ESRI has focused all their energy on the creation and adoption of their cloud platform, ArcGIS Online. They are encouraging thousands of agencies to store data, make maps, and tell stories online. But all this activity has created a ton of data and maps that need to be viewed in context. They need to be used in relation to your planning and operations.
For example, you are working away as usual with SA, running the software for your fires and analysis, and it comes to your attention that the Red Cross has all their current shelters available on ArcGIS online. Now, you can just click and add their data right into your dashboard in SA.
We think software should be nice and play well with the other kids. Now you can add ArcGIS Online data directly into SITUATIONANALYST.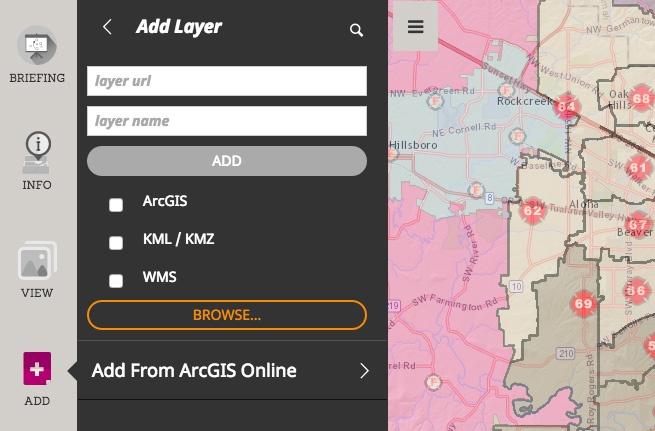 5. Add Map Layers or Google Earth Layers of Your Own to the Map
There are a lot of map layers in the world—some are GIS shapefiles and a ton are Google Earth layers—but you want to be able to add any of them into SITUATIONANALYST. Who knows where good information will come from?
I was on a fire one time and the best shelter information was a Google Earth layer from the local PBS station. We built tools into SA that let you click and add these layers directly into your map, no matter where they come from. If you trust them, if they are helpful, drop them in and share with anyone.
6. Dynamic Legends
There can be hundreds and hundreds of layers in SITUATIONANALYST. We organize them with workspaces so they are not overwhelming, however, you still need to easily see what all the map information means. Our solution? We have added legends that are always available and close by; and we have made them dynamic so that only layers that are visible in the map are shown in the legend.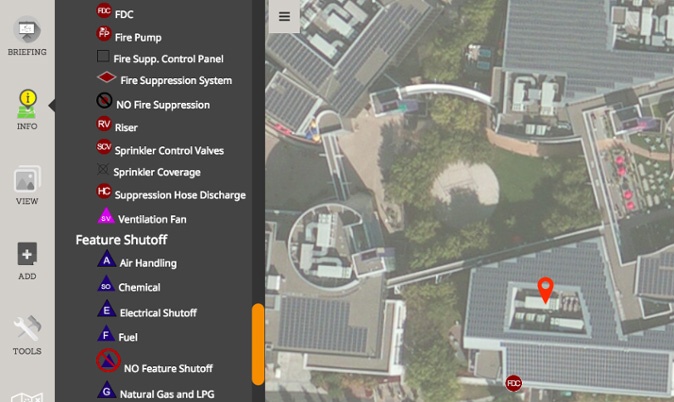 7. Quickly Calculate Acreage or Distance with Measuring Tools
We have added powerful measuring tools. On the left, blade menu, click TOOLS and you will see some great new tools for measuring distance and area in all kinds of units. Measuring tools aren't the sexiest things ever—right up until that moment when your Chief asks you if the fire is 35 or 350 acres. Now you feel me.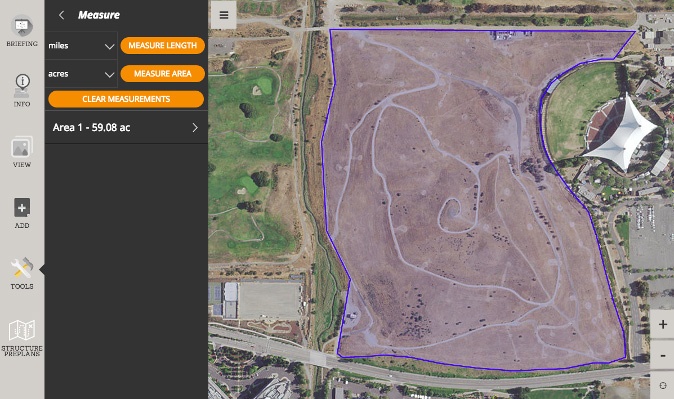 8. Reports
Reports, reports, reports. We have your reports. You might not know it, but SA has reports for lots of things. Some of these depend on what tools your organization uses—Fuels treatments, Homeowner wildfire mitigation, structure triage, firefighter risk, EMS 'Frequent Flyers' and more. Sometimes the software is enough, and sometimes you just need to push a button and give them the piece of paper.

9. Find Me and Zoom to My Location
This is a hidden gem. Not rocket science, but in software crawling with data and tools, it's easy to get a little lost looking around the country. Now, on the main screen, just below the zoom in (+)/zoom out (-) buttons in the lower-right, there is a Find Me button. Click on it and *presto!*, it will zoom to you. It uses the location on your device or what it can figure out from your WiFi. It's pretty handy when you're trying to figure out where the incident is in relation to you.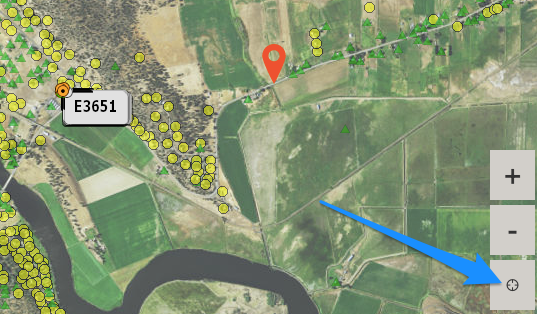 10. Use the PIO Tools to Communicate with the Public
Not everyone uses PIO tools, but most folks do. As you collaboratively map fires and incidents you're working on, these tools allow your Information folks to pick from the incidents going on, then click a button and publish really scaleable maps out to the media and public. They don't show everything, but they show the main things. Think about it—you can map an incident in real-time, and share with the public just as fast. Think they would appreciate that? Yeah, we do too.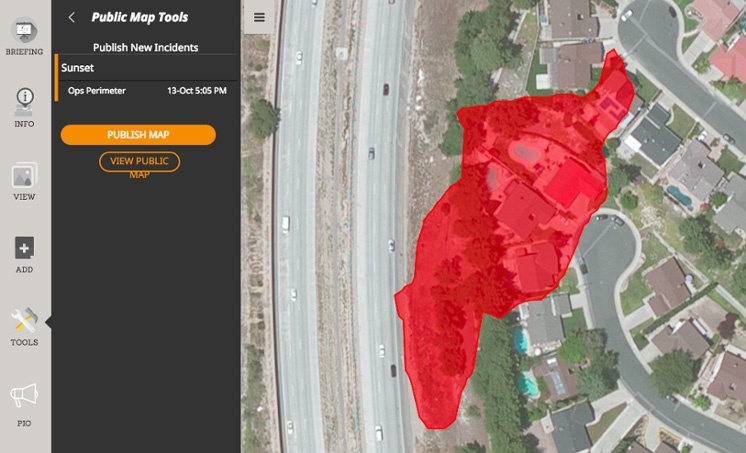 We have grown and grown, and don't get to talk to everyone everyday, but we're always looking for better ways to constantly stay in touch and thought this would be a good way to share some of our favorite features this week.
Leave us a comment and tell us your favorite features, tips, tricks, and hacks. Share them with each other by sharing comments here. I'm constantly amazed by the cool things people are doing with SA that I never knew they were using it for.
If you're not already using SITUATIONANALYST but this information has made you eager to learn more, please click the button below to start talking with us today!