Editor's note: Special thanks to our friends at ConStarUAS, Silent Falcon, and Overwatch for putting a system together that highlights some of the best thinking in this field. We believe the future of these platforms is the ability to combine the aircraft, sensor, and information all into one package that is easily used and deployed by First Responders. This kind of collaboration is a welcome addition to a space that is filled with siloed solutions.
Small fires can turn into big fires, which can cause hundreds of thousands of dollars' worth of property damages. Luckily, we live in a world where newer and better technology is always available. In the world of wildfires, firefighters are discovering the potential of drones and unmanned aerial systems/vehicles to detect these small flare ups before they become big forest fires. Here's how it works.
What are Unmanned Aerial Systems (UAS)?
An unmanned aerial system is a system made up of a drone or UAV (Unmanned Aerial Vehicle), a ground-based controller, and a system of communication between the two and the launch/recovery/support system.

UAVs and UAS used by hobbyists have caused professionals to question their validity because they are often found to interfere with professional work. Hobbyists at the scene of a wildfire have made the news and caused lockdowns and no-fly zones for professionals trying to do their jobs. However, with the new technology emerging, UAS will be a huge benefit for public agencies to address real problems when we customize the UAS solutions available to specific departments.
The Reality of Early Fire Detection With UAS
The primary goal of fire agencies across the world is to reduce the cost of devastating fires locally, nationally, and globally by detecting and attacking fires when they are small and easy to suppress. By exploring current and emerging technology, fire agencies are a step closer to achieving that goal.

One area that is now reality is "Early Fire Detection" of fires caused by lightning strikes. By utilizing a customized UAS solution with live video, infrared imagery, onboard smarts, and a live GPS data feed to look at the size of the heat source, the current estimated fuel moisture and fuels conditions in the fire area. All of which can be provided instantaneously to the decision makers laptop, smartphone or tablet and can be shared simultaneously with all personnel who need this critical information.
"Data captured from the system is actionable – not a history lesson"
This technology can be provided at a lower cost than the current system. Currently, Early Fire Detection (EFD) utilizes a staffed fixed-wing aircraft with two people on board to respond to lightning strike reports which are costly and potentially putting people at risk. Upon arriving to a reported fire location, they will size up the potential, recommend a course of action, all by radio, which is time consuming and makes the fire chief/manager depend on someone else's interpretation, which may not include actual fuels data to assist in determining the potential for rapid rates of spread. The data from these fixed-wings is conveyed verbally by radio or via video recorder requiring download later.
The Benefits of UAS
With today's technology and UAS, these systems can be deployed remotely and in a fraction of the time to get an aircraft dispatched from a fixed wing airbase. An Unmanned Aerial System can fly up to 5 hours, covering over 31 square miles or 20,000 acres an hour from an elevation of 3500' AGL, with smart sensors that can provide clear, concise and actionable data, video and information.

Another bonus to today's technology, the UAS operator does not need to sit glued watching a screen, but the system will alert them and others upon detecting a viable heat source.

All active users can see the data as well and optionally downloads fire location map and geo-tagged images from nearby (color, thermal, and vegetation index imagery).

Data captured from the system is actionable - not a history lesson." It relieves operators from staring at video to locate the hotspots/fires/fuel data and then reduces the amount of data the users need to see in real-time by only alerting the users of critical objects/events.
Critical Capabilities
Odds are, you're seeing a battery powered hobbyist drone in your mind. However, the drones that will be used in the fire service are on the opposite end of the spectrum. These bad boys are similar to the drones used by the military. They are a fixed wing, solar-powered aircraft with smart image processing payloads.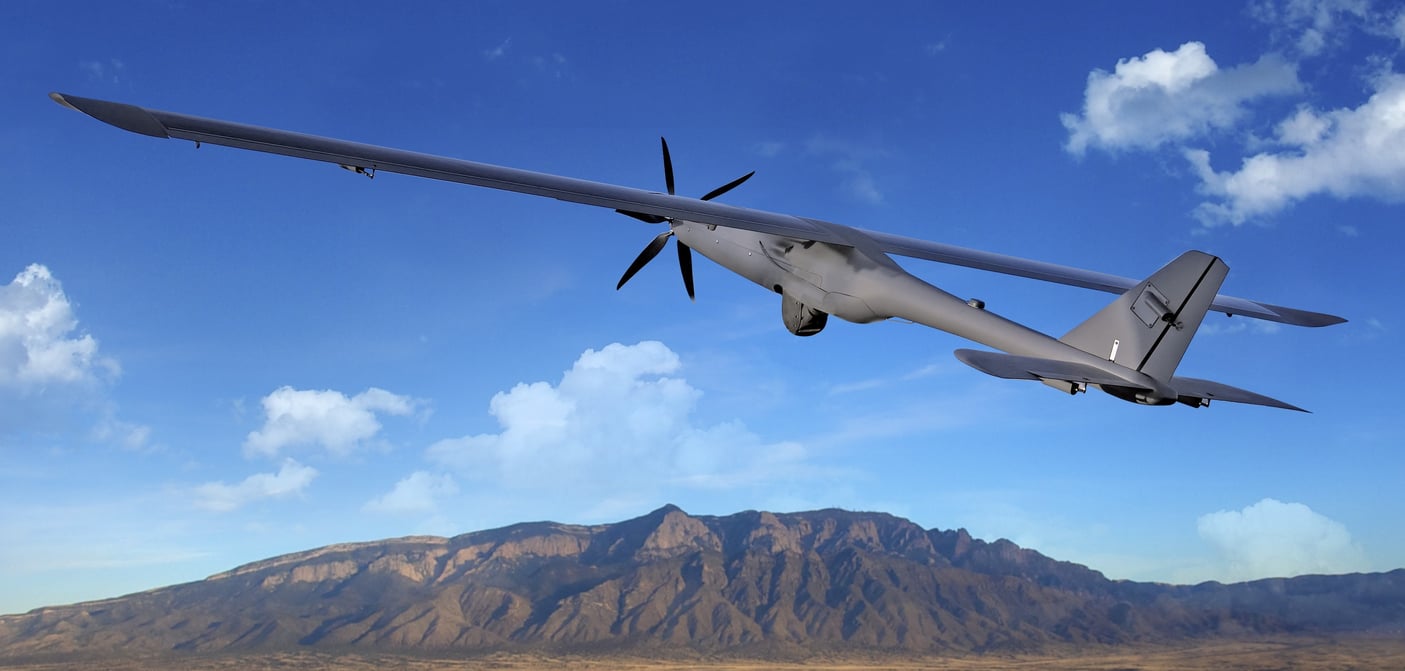 "Comparing this system to low cost multi-rotor and fixed wing drones is like comparing an 18-wheeler tractor trailer to a wheel barrow"
The technology was designed to support Early Fire Detection, Fuel Assessment and Fire Suppression Support missions with these Key Capabilities:
Lower the risk of responders by not using manned aerial vehicles

Rapid deployment

Launch and recovery sites are smaller

UAS hardware is a civil version of high-grade military hardware

Real-time decision support data

Real-time alerts appear immediately via software many fire agencies are already using

The drone operator doesn't need to constantly monitor the UAV video feed

System will detect key events like hotspots and fires as well as heat signatures, objects, life, etc.

Identification of moisture in surrounding vegetation (to assess fuel and fire spread potential for fire suppression support)

Real-time ID of a moving fire line perimeter and sharing to all smart devices


Support Beyond Visual Line of Sight, (BVLOS) long RADIO RANGE flights, with tracking antenna and mesh radio expansion to allow more

coverage of an area with a longer duration flight

Designed to fly at high altitude, 3,500 ft. AGL, for long duration

Covers more acreage faster per flight with an industry leading scan rate

Uses proven Persistent Systems Gen 4 Wave Relay MANET for communications for up to 62 miles/100km at our 3,500 ft. AGL scanning altitude.

For larger forest area coverage beyond 62 miles/100km, the SF UAS Wave Relay MANET can be upgraded with additional tracking antennas.


Fire services already utilize this Wave Relay technology for extended communications, so this is a proven technology.




Overall, these features all cascade to create an entirely different class of product compared to those found on small drones. Since this system will allow analysis of data and access it in real time, put the key alert data into systems firefighters already use, support much longer endurance missions which allows much broader area coverage, users can depend on this technology as a scalable diverse application solution rather than a spot event tool. It has been said, comparing this system to low-cost multi-rotor and fixed wing drones is like comparing an 18-wheeler tractor trailer to a wheelbarrow....
For more information, contact web_inquiry@ConSTARuas.com or drop us a line via the Questions link below.
Any questions? We're always happy to help. Feel free to contact us today!