Intterra is excited to announce that there are several new updates to the SituationAnalyst software. Read on to see how the newest features of SA can benefit your department this summer!

Incident Monitor
The Incident Monitor tool provides you with a holistic view of current incidents. The tool was originally developed for coordinating large sporting events and special events, and displays locations along with a complete report of emergency response information that is taken from SA. The tool checks for updates every 60 seconds, allowing you to add, edit, filter, and sort various incidents with ease. Incident Monitor keeps you informed of the important occurrences happening around you.
Incident Metrics Tool
The Incident Metrics Tool provides an analysis of where specific incidents have occurred. The tool includes a density map display that allows you to view where certain types of calls occur most frequently and plan for needed resources in the area.


Table Tools
The new table tools feature charts with selectable slices that allow you to analyze the information represented by the slice on the map. Each tool contains information on different parameters that provide insight into the operational efficiency of your organization. Now you can really see what is happening in your department.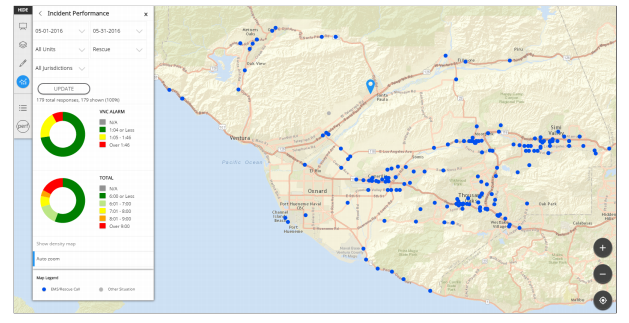 Incident Performance
Charts allow you to filter and view reports on specific incidents:
Alarm: shows the timeframe between the receipt of the 911 call to the dispatch of the first responding unit
Total: shows the timeframe between the receipt of the 911 call to the first responding unit's arrival on scene
Unit Performance
Reporting tools enable you to view dynamic unit performance reports in SA and see why a specific incident affected unit response:
Turnout: shows the timeframe between when the unit is dispatched and when the unit actually departs for a call
Travel: shows the timeframe between when units depart to their arrival on scene
Standards of Cover
Observe Alarm Processing, Turnout, Travel, and Total time data with these adjustable parameters:
Date range
All stations or by individual station
All jurisdictions or by individual jurisdiction
All incidents or by incident type
All zones or by zone (metro, suburban, or rural)
The tool also shows the percentage of calls that meet the benchmarks published by the Commission on Fire Accreditation International (CFAI).
Incident Reliability
Now this is powerful: Reports the percentage of time that a designated unit in a dispatch area was available to be dispatched to a call in that area. This provides you with valuable information about the length of time a station was busy with other calls or had to dispatch a unit from another station.
Try it out!
Think you're ready to give our new tools a try? Contact us and learn more about how we are continually making improvements to SituationAnalyst.