Six months ago, we released the SituationAnalyst Field Tool app as a complement to our SituationAnalyst (SA) software suite. Our goal was to extend the range of SA to firefighters and emergency responders who travel and operate at the edge or beyond the range of cell coverage. The SA Field Tool allows them to quickly and easily add map data to SA.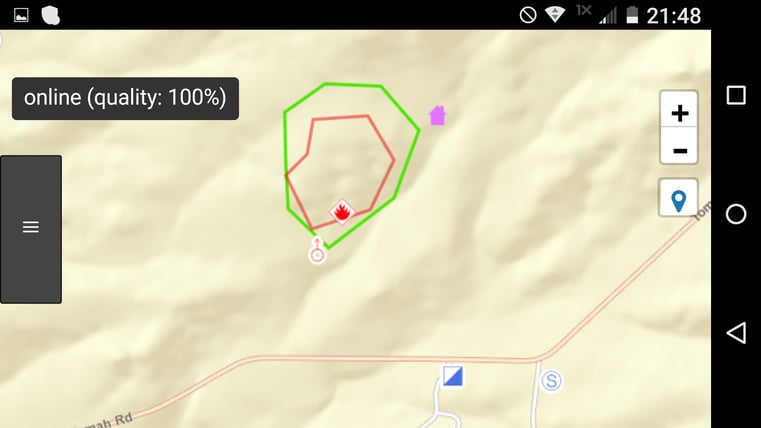 The SA Field Tool's online-and-offline capabilities represent a unique change in technology used in austere field environments. As a result, more and more firefighting teams are using the Tool to get oriented to an incident site, then quickly note and share information in the app with one another during and after the event.
As with any new technology deployments, we thrive on feedback. Since its release, we have been gathering stories from the field on the adoption and use of the SA Field Tool. We hope these observations we have received will inspire you to better utilize the SA Field Tool in your day-to-day operations.
One team leader pioneered using the SA Field Tool to label the map shared on mobile devices to help quickly orient incoming response personnel to the affected area.
The Oregon teams fighting the Akawana Fire found that "training someone new to the SA Field Tool takes 5 minutes max."
Teams responding to a Utah fire that's been threatening homes used the SA Field Tool to assess about 500 structures

in one day

. The whole team - in the field and the ICP - was able to see each assessment pop up on the map in their own mobile devices as soon as it was noted by a team member.
In Southern California, Ventura County FD is moving to using the SA Field Tool on all department-provided tablets.
These and other field-use stories highlight the fact that the S
A
Field Tool is most effective for inputting data found in the field to be used by the front-line information-gatherers: firefighters & engines.