Welcome to the second installment of our Get to Know the Team blog series. This week we're getting know our very own Wildfire Operations Chief and Program Manager, Jim Wolf.
Jim has been with our company for just over two and a half years and his prior experience sure does show! With a Bachelor of Science in Forest Management from Oregon State University and over 20 years working as a fire analyst for the Oregon Department of Forestry, he is truly an incredible asset to our team. However, despite his long list of accomplishments, it isn't all work and no play for Jim. Here's a peek inside his life outside of risk assessment and GIS analysis.
What are you passionate about (both personally and professionally)?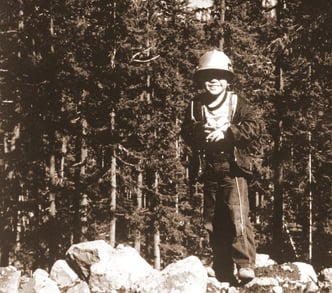 Being a good husband, father, and grandpa! I'm also passionate about serving my church family in leadership and music; serving the fire community to improve and simplify life for fire managers and firefighters with my Intterra work; and serving my local community through efforts in forest restoration and creating fire adapted communities.
What do you like to do in your free time?
My wife and I love traveling in our RV, visiting family and hanging out at the beach, mountains, and vineyards. I love the fact that the customers I work with are located in some of the most beautiful and interesting places on the planet. Many Sundays we help with music and worship services.
What is currently filling the number 1 spot on your bucket list?
Being a first time grandpa!
Other random stuff that would be interesting/educational/funny?
I have always had an interest in using technology to simplify and speed up my work. My first computer was a TI-99 – it used a cassette tape recorder for data storage, a TV for a monitor, and it had 64KB of RAM. I programmed a simple forest road design app in Basic to automate the manual calculations. No spreadsheets or 'windows' back then!
The first musical instrument I learned to play was a hand-me-down banjo.
There you have it, Jim in a nutshell! Make sure to keep your eyes peeled for our next employee spotlight.