We always get so excited to bring you new information about a different member of our terrific staff every two weeks. At Intterra, each employee plays a uniquely valuable role. We really couldn't exist without everybody on the team. As part of our get to know the team series, we invite you to meet Emily Carpenter this week. Emily handles the transmission and representation of geospatial information in SA for Intterra, and she makes a huge difference in our day-to-day operations. Aside from being great at what she does, she's a really important person in our lives overall. Here's what you need to know.


What do you think the future has in store for Intterra and the way technology is utilized in fire fighting?

Only good things! We are creating a community of the smartest and most experienced minds in fire. The collaboration will bring forth ideas that will shape how fires are fought and planned for.

What are you passionate about (both personally and professionally)?

Keeping up with my field. Finding new ways to represent loads of data in ways that are meaningful and concise to perpetuate efficient decision-making. My dog is also incredibly impo
rtant to me, along with fixing up my house.

What do you like to do in your free time?

Generally, work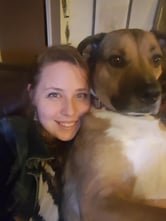 on my house, which is a real fixer upper. I also like to spend my time camping and hiking while playing with my dog.

What is currently filling the number 1 spot on your bucket list?

Skydiving. I'm absolutely terrified but I have to go!
We hope you enjoyed learning more about Emily! Be sure to check back in two weeks for our next employee spotlight. We love our team, and we hope you will too.