The COVID-19 pandemic crisis has affected the lives of individuals worldwide. As people struggle to adopt a new sense of normalcy within their personal and professional lives—the virus remains a constant threat to public safety. As such, fire and emergency medical services have become a crucial component for protecting society's health and well-being.
While many people have been forced to adapt to virtual work environments—professionals in essential fields must continue braving the front lines to ensure the health of infected and uninfected individuals alike. As the nation continues to brace itself for a steep rise in cases during the coming weeks—new steps are being taken to improve public safety and security.
Ensuring public health requires having the appropriate disaster tools and practices in place. Safeguarding first responders helps fortify their own health and, in turn, the people they serve and protect.
Recently, FirstNet hosted a webinar detailing COVID-19 best practices and solutions that can be implemented for assisting first responders. High-ranking public service professionals provided valuable information highlighting the importance of continuity and collaboration during times of distress.
Let's take a look at some of the best practices that can be used to maximize the effectiveness of first responders:
Emergency Medical Services/Fire Street Operations
Fire and EMS remain a critical component of ensuring public safety. During these times of pandemic crisis, their services have become an invaluable tool for saving lives. Emergency responders often risk their own safety and well-being by voluntarily stepping into precarious situations. To help address current health concerns, emergency personnel have implemented a number of precautionary procedures geared towards maximizing public safety.
Advanced 911 protocols along with enhanced PPE (personal protective equipment) have helped to limit virus spread to critical care employees. Masks, gloves, and gowns along with regular staff health screenings are additional safeguards that have been implemented across various agencies. Although these measures have drastically reduced risks to first responders, we must continue to adapt to changing circumstances.
As the rate of infection increases, emergency personnel are adopting new procedures to limit the rise in fatalities. Occupational safety remains a top priority for first responders due to their constant interaction with the public. Assessing exposure risk to emergency personnel has helped to minimize the spread of infection amongst first responders. As such, precautionary measures can be taken to assess contamination risk if necessary. Furthermore, procedures have been created to ensure responders avoid the public if they may have been exposed. Additional steps are taken before allowing high-risk employees to return to duty. The constant dedication and commitment of fire and EMS personnel should not go unnoticed—especially during today's tumultuous health environment.
Technology Issues and Opportunities
Uncertainties surrounding COVID-19 have forced decision-makers to quickly react and adapt to changing circumstances. New technologies have emerged to help improve public health response, but fire services are notoriously hesitant in adopting new technologies. Although fiscal barriers often prevent innovation within civil service occupations—the need to share information across agencies has outweighed these concerns.
Dispatch & PCR information used to track COVID-19 cases is of significant importance during times of uncertainty. Heat mapping COVID data has become a useful tool for tracking virus spread while monitoring high-risk patients across regions. Understanding clusters of cases aides in providing capability planning, staffing, and situational awareness for crews and personnel.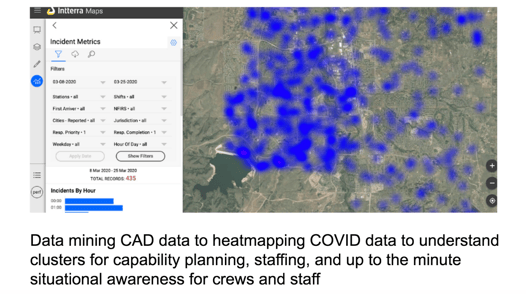 First responders must be vigilant when it comes to preparing for worst-case scenarios. Intterra's approach of visualizing data helps agencies evaluate call volume, response times and incident types while improving planning abilities. Understanding how your department is tracking COVID-19 and sharing that with Intterra (or any of your technology providers) to determine an approach to visualize and share this data to your front lines is critical. Our collaborative approach with our clients allows agencies to maximize existing department capabilities while minimizing the silos of information during times of crisis.
Maintaining a constant flow of information between agencies is pivotal during times of emergency. State, local, and federal officials should be focused upon providing regular updates in a constantly changing health climate.
How Intterra is Helping Track COVID-19 Data
Intterra utilizes cloud-based information to help fire departments and agencies manage resources by tracking key information - including COVID-19 - when and where it makes sense for our customers. Intterra's cloud-based data visualization software empowers agencies using valuable insights and analytics. They help first responders accomplish mission goals in a safe and effective manner. As a centralized, visual interface—Intterra provides up to the moment information to improve the decision-making abilities of dispatchers and first responders.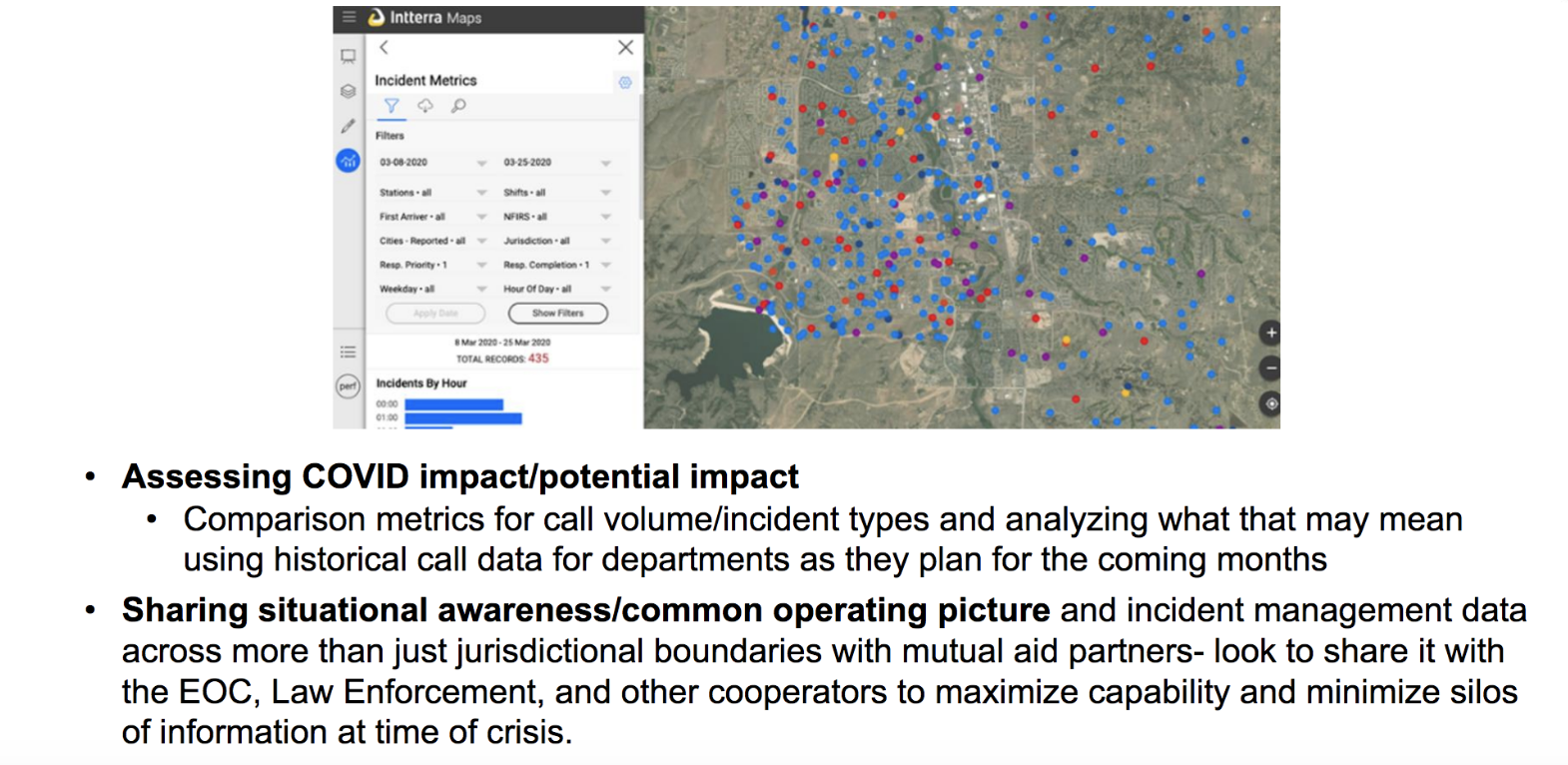 If you would like to learn more about COVID-19 best practices and solutions for helping first responders, please feel free to listen to the full webinar by visiting the site here.